Country Seasoning™ – Use liberally on anything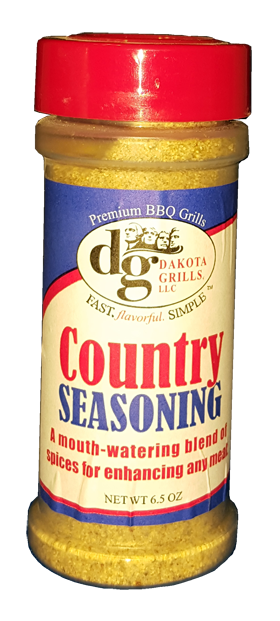 Salmon & Fish – Oil or butter skin (so it won't stick), place skin-side down on grate, sprinkle to taste.
For hor d'oeuvres, smoke with mesquite, hickory (strong flavor), cherry, maple, or apple (mild).
Poultry – Sprinkle liberally or rub all around. Very good smoked with mesquite. If not smoking, rub with BBQ sauce (such as Ol' West) when finished cooking, then cook another 15 – 60 minutes.
Pork Chops – Season to taste.
Loins & Roasts - Season liberally. Several excellent cooking methods:
BBQ when finished cooking, then cook another 15 minutes (chops) to an hour (loins);
for loins, drape with bacon & smother in BBQ sauce, wrap with cheesecloth & grill until done, then tenderize at 250°F for another hour or two;
smoke moderately or heavily with cherry (especially good with Pork Butt Roast) or hickory wood.
Lamb – Sprinkle liberally. Can smoke lightly (3-5 chips) with mesquite, hickory, or maple.
Scrambled Eggs – Add seasoning after scrambling or when adding cheese, bacon, or veggies.
Vegetable Medley – Dice veggies, place in tinfoil or on kabob stick, season liberally.
Mushrooms – Slice; add a dab of butter, PAM, or oil; season moderately.
Popcorn – Try sprinkling on your next batch. Some of our customers really like it!
---
Sizzlin' Steak™ – use liberally on beef, fish, deer, and mushrooms.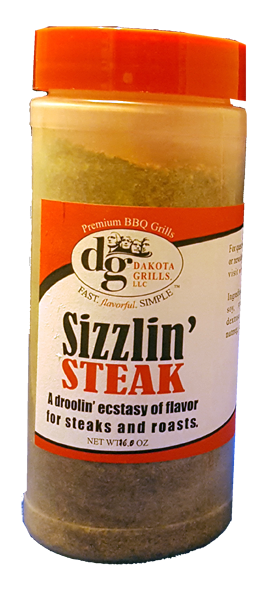 Vegetable Medley – Enhances steaks, roasts, and prime rib with a nice "beefy" flavor. Season liberally or to taste.
Smoked Fish – Carp, Silver Bass, Northern, etc. Season to taste. Smoke skin-side down for 40-60 minutes. Remove the skin and season that side. Add more wood chips if desired. Finally, dry the fish to desired consistency by grilling at 250-300°F for 2-3 hours more.
Venison – Use liberally, especially on thick cuts.
Buffalo – Season to taste. Do not overcook! (Generally serve when rare: 125-130°F)
Lamb – Gives a nice flavor; somewhat beefy. Season moderately.
Mushrooms – Same as Mushrooms above with a slightly "deeper" flavor.
Other – Gives a rich, diverse, slightly beefy flavor to almost anything.