Eight Layer Salad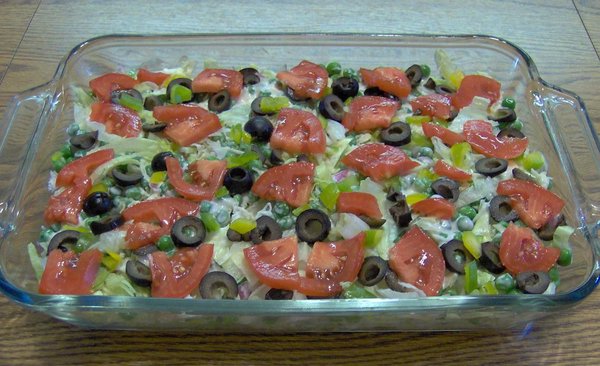 Prep Time: 20 Minutes
Serves: 16
Additional Information/Details:
Ingredients
Lettuce - 1 bag cut-up, ready-to-use
Spinach - 1 bag ready-to-use
6 green Onions
1 pint fresh Mushrooms
8 oz. pkg frozen Peas, thawed
4-6 oz. bag Shredded Italian Cheese (5 white cheeses together)
4 hard-boiled Eggs
Dressing:
2 cups Mayonnaise
3 Tbsp. Vinegar
2 Tbsp. Sugar
1/2 tsp. Salt
Directions
Mix together the dressing ingredients (mayonnaise, vinegar, sugar, & salt) and let sit in the refrigerator for 1-2 hours.
Thinly slice the green onions. Rinse and slice the mushrooms. Dice or slice the hard-boiled eggs.
In a 9 x 13" pan (glass is nice), layer 1/2 of each ingredient, ending with the dressing. Repeat layers. Refrigerate 2-3 hours.
Quick Tips
Optional: On top of last layer, put 2 thinly sliced radishes, 6-8 sliced black olives, and 1 yellow or red pepper, diced.
This recipe was submitted by: Dianna Dossett of Arlington, SD
---