Fancy Thanksgiving Turkey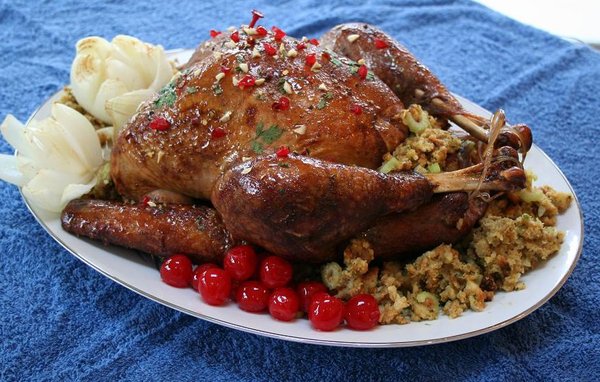 Grilling Time: 3 Hours
Prep Time: 10 Minutes
Serves: 10
Where to Cook: Lower Grate (Remove Top Grate)
Additional Information/Details:
Ingredients
Turkey, 10-13 lbs. (or several whole chickens)
Dakota Grills Country Seasoning™
Ol' West BBQ sauce
(optional) Olive Oil or Vegetable Oil
(optional) Garnish, chopped (Marachino cherries, onions, jalapeños, cilantro, etc)
Mesquite wood chips (do not moisten)
Directions
Optional: Fill smoker tray with dry mesquite (strong flavor), maple, or cherry wood chips.
(DO NOT preheat the grill.)
Optional: season inside cavity of turkey or chicken, tie wings and legs to body, and brush exterior of turkey with oil.
Liberally season turkey. Insert probe in breast (at least 1") and set the probe temperature for 165°F or 175°F if you stuff the turkey.
Note: The USDA recommends cooking stuffing separately for increased food safety.
Set grill temperature at 320°F.
Optional: For extra zest (or for a delayed meal), brush turkey or chicken with barbecue sauce or apple jelly when finished cooking.
Add garnish (chopped small), such as maraschino cherries, garlic, onions, jalapeños, orange zest, and/or cilantro leaves.
Leave on grill, with lid closed, for 10-15 minutes at 320°F or 30 minutes at 240°F.
Expected cooking time for a 12 lb. turkey is 3 hours (approximately 15 minutes per pound).
Whole chickens take about 1½ to 2¼ hours at 320°F or 1¼ to 2 hours at 340°F.
Quick Tips
Similar to rotisserie turkey or chicken (but without a rotisserie!).
Enjoy moist & tender snacks with unique, old-fashioned flavor by curing your turkey. Using our Sweet Meat Cure™, you'll create insanely juicy turkey-ham.
For crispier skin, open the vent further or cook longer or to higher internal meat temperatures, such as 170°F or 180°F. While you will lose additional moisture, the interior should remain tender & juicy.
When smoking, always set the grill at 320°F; after the first half-hour, you may adjust the grill temperature up or down to speed or slow the cooking process. You may speed the cooking of a large turkey by increasing the temperature to 340°F after first half-hour.
According to the USDA poultry should always be cooked to 165°F or higher internal temperature.
This recipe was submitted by: Adam Sorenson of Lake Preston, SD
---