Larry's Award Winning Thighs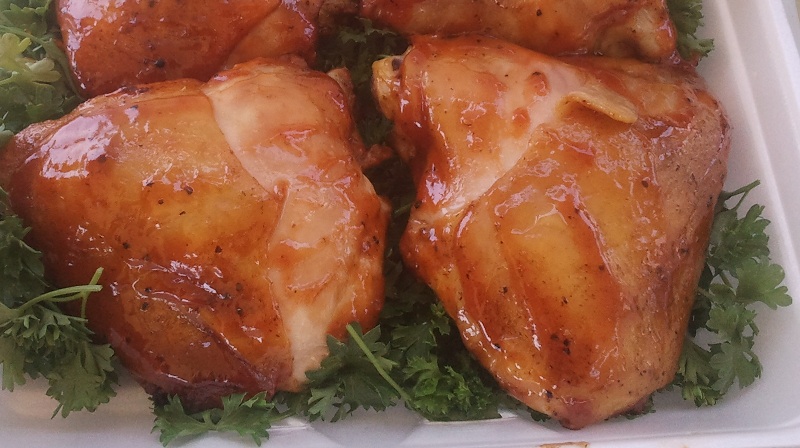 Grilling Time: 1 Hour
Prep Time: 20 Minutes
Serves: 6
Where to Cook: Lower Grate
Additional Information/Details:
Ingredients
Chicken Thighs - 6 Avg size pieces
Dakota Grills Country Seasoning™
Ol' West BBQ Sauce
Directions
Preparation:
Clean up chicken thighs so that they are somewhat uniform in size and shape, clean off excess fat from the meat and then sprinkle liberally with Dakota Grills Country Seasoning™, coating all exposed areas of the chicken.
Grilling:Place the chicken on the lower shelf of the Dakota Grill™, place the meat probe into one the meatier pieces of thigh, close the lid, set the temperature to 320°F, set the meat probe to 170°F and let the bird cook.
When the meat probe shows about 130°F, open the grill and coat the chicken thighs on all exposed surfaces with Ol' West BBQ sauce, close the lid and let the chicken finish cooking.
When the chicken is cooked completely according to the meat probe, then re-coat the chicken thighs one more time with Ol' West BBQ sauce, let them rest in the grill for about 5 minutes as you finish the rest of the meal, and then plate and serve.
Quick Tips
What a wonderful way to grill the most juicy and tender chicken you have ever had without it burning to a crisp.
This recipe was submitted by: Larry Juncker of Fort Dodge, IA
---