Adam's Awesome Pork Loin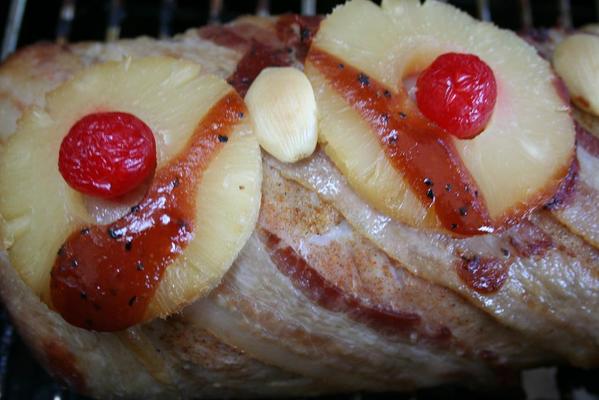 Grilling Time: 2 Hours
Prep Time: 15 Minutes
Serves: 20
Where to Cook: Lower Grate
Additional Information/Details:
Ingredients
1 full-sized loin
1 lb. Bacon
BBQ sauce (such as Ol' West)
1 fresh Pineapple (or canned rings)
6-8 Maraschino Cherries
1 jalapeño
1 bulb garlic
Directions
Preparation:
Fill smoker tray level full with either cherry wood, hickory, lilac, or apple (fresh from the tree is best), or a combination of these. Smoking is optional; also wonderful just grilled.
Season pork loin with Dakota Grills Country Seasoning™ or Sizzlin' Steak™. Drape with bacon. Drizzle with your favorite BBQ sauce. (Sweet sauces are our favorite, such as...Ol' West, Cookies, Famous Dave's Sweet & Zesty, or Sweet Baby Ray's.) Add pineapple rings (or crushed pineapple). Place a maraschino cherry in each ring. Peel 1 garlic clove per 2 lbs. of meat, placing 1-2 pieces between each ring. Add a ¼" slice of jalapeño to each ring.
Grilling:Insert meat probe. Set grill for 320°F and probe for 145°F (will overshoot to 150-155°F; if you don't want any pink, then set probe for 155°F). Done in 1½ - 2 hours.
One full-sized loin feeds about 20-25 people. You can put 4 full-sized loins on the grill (2 on bottom grate and 2 on top grate). Allow 3-4 hours to cook 4 loins (set grill temp to 250-280°F); should also tenderize if you have time. Open vent to #3 for 2 loins; #4 for more (or crack lid open a bit).
Tenderizing (optional):When done, you may tenderize even further for 1-2 hours, until you are ready to eat. With 1 or 2 loins, drizzle with BBQ sauce to make up for lost moisture (3-4 loins should still have plenty). Set grill temperature to 220°F and probe temperature to 160°F. (The idea is to keep internal meat temperature between 160°F & 180°F; tenderizing requires moisture, heat, and time.)
Quick Tips
Recommended side dish: Grill a sweet potato (skin on & not pierced) with the pork loin. Done at the same time, it becomes juicy, soft, and not stringy; it's wonderful even plain!
"Adam's Awesome Pork Loin" took first place in the Pork Loin Competition at the 2010 SD State Fair and People's Choice at the 2011 SD State Fair.
From 2008 to 2012, Adam smoked loins at Prairie Village Steam-Threshing Jamboree in Madison, SD, and served 400 volunteers & exhibitors using just 4 Dakota Grills (4 loins per grill).
This recipe was submitted by: Adam Sorenson of Lake Preston, SD
---