Crustless Bacon-Cheese Quiche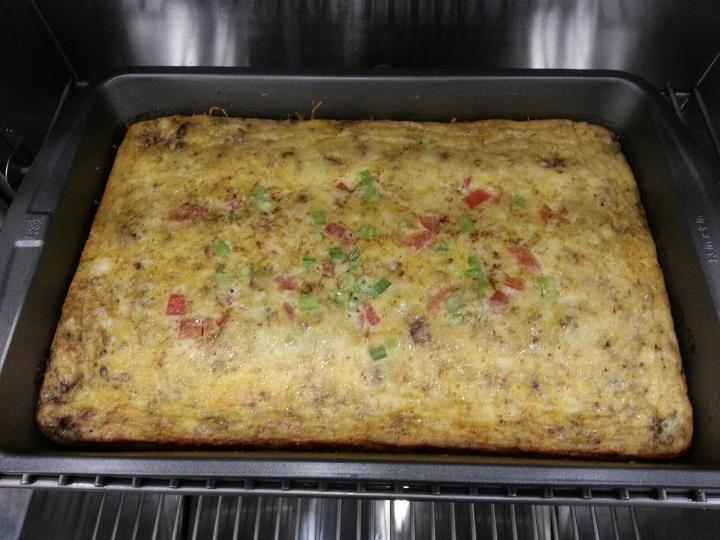 Grilling Time: 30 Minutes
Prep Time: 15 Minutes
Where to Cook: Lower Shelf
Additional Information/Details:
Ingredients
12 Large Eggs
12 Pieces of Bacon (I prefer Hormel Black Label)
5 Green Onions chopped
1/3 Cup Lowfat Sour Cream
1 Cup Fresh sliced mushrooms
1 Cup Kraft Shredded Cheddar
1 Cup Kraft Shredded Mozzarella Cheese
1 Roma Tomato, chopped, divided
Directions
Hang 12 pieces of bacon on lower rack of grill and cook until crisp.
Remove bacon with wooden spoon handle.
Coat 9" x 13" baking pan with spray vegetable oil.
Add mushrooms to baking dish; cook and stir 2 minutes or until tender.
Remove from heat
Chop bacon and add to baking dish with onions and tomatoes; mix well.
Beat eggs and sour cream with whisk until well blended. Pour into baking dish; top with bacon mixture and cheeses.
Bake 30 minutes or until center is set. Sprinkle with reserved onions and tomatoes.
Let stand 5 minutes before cutting to serve.
Quick Tips
Who ever heard of cooking a quiche on a grill! Because of it's Patented no flare-up design, you can with a Dakota Grill.
This recipe was submitted by: Larry Juncker of Fort Dodge, IA
---