Poor Man's Prime Rib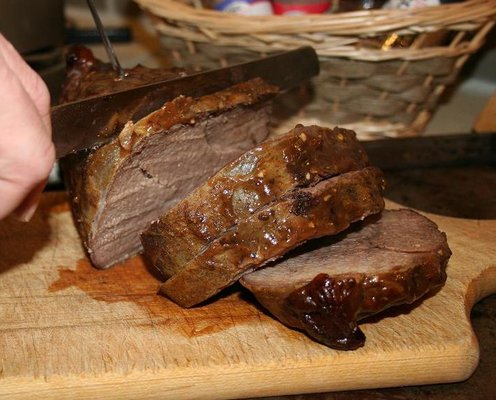 Grilling Time: 2 Hours & 30 Minutes
Prep Time: 5 Minutes
Serves: 6
Where to Cook: Lower Grate
Additional Information/Details:
Ingredients
1 roast, 3-6 lbs (tri-tip, chuck, arm, or rump)
Dakota Grills Sizzlin' Steak™ Seasoning
Homemade Au Jus
1 Can Beef Consommé
1/16th tsp. garlic salt
Several Beef Bouillon cubes
1/16th tsp. onion powder
½ - 1 tsp. Sizzlin' Steak™
Directions
Preparation:
Liberally apply seasoning to thawed roast. Insert meat probe into center of roast and plug probe into grill. Set probe temperature 10 degrees lower than target temperature to achieve desired meat doneness; we recommend targeting 140-145°F, which is rare to medium-rare (set probe to 130-135°F). Medium is 150°F and well-done is 160°F.
Cooking:
Set grill for 300°F; preheating is not required. Allow 2 or 3 hours to reach medium-rare. You may reduce cooking time by grilling at higher temperatures (such as 330°F), but the meat won't be quite as tender & juicy. DO NOT exceed 350°F.
When the roast's internal temperature reaches the probe's set point, your Dakota Grill™ automatically switches to Warm Mode. On WARM MODE, the roast can sit for an hour or longer without significantly drying out the roast. If you need to hold the roast longer than 1 hour, conserve moisture by closing the vent to #1 and applying an au jus glaze (refer to recipe notes or Prime Rib recipe).
Serving: Slice meat against its grain for maximum tenderness. Serve with hot au jus: combine au jus ingredients and heat until Bouillon cube dissolves, stirring occasionally. Serve au jus in small bowls, such as custard cups.
Quick Tips
For best results, choose a roast with some marbling and little gristle.
This recipe works well with a real prime rib; it may be the best you've ever had. (pg. 23 of manual.) However, several customers recommend cooking prime rib much slower over a 6-8 hour period (set grill at 240°, and close vent to #1).
Double au jus recipe and thicken half into a heavy glaze. Glaze roast when fully cooked, then hold grill at 200 - 220°F for 1 hour to further tenderize.
This recipe was submitted by: Adam Sorenson of Dakota Grills, LLC
---